Recap of NH Live Free or Die Tattoo Expo!
Thursday July 28, 2011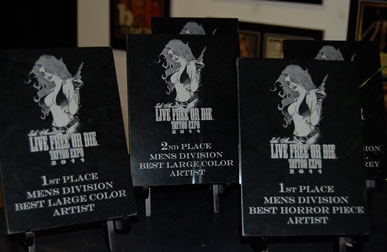 Let's just say the convention was a success! Not 1, not 2, but FIVE new trophies were taken home to add to the PowerLine Tattoo trophy collection! Evan and Mike not only represented, they ROCKED it! They took home 1st place in Male Large Color, Male Best Horror, Female Small Black & Gray, and Female Portrait, and 2nd place in Male Large Color.
Evan and Mike did some really great pieces at the convention as well. Two of Evan's pieces were just added to his tattoo gallery (Rose/candle head tattoo, and the Hannibal Lector portrait), so make sure to check them out! Mike had the chance to do his own self portrait on a lucky fellow, so make sure to check back to see that..because he's the "sexiest man alive."
If you missed the New Hampshire convention, definitely try to make it out to the Boston Convention (Sept. 2-5) for what will surely be a great time!