It's Gettin Hot in Here!
Thursday June 09, 2011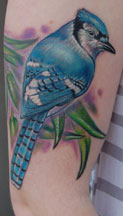 Heat waves, tornadoes, and new tattoo images! Hello, Rhode Island summer! PowerLine Tattoo has been keeping busy (and keeping cool thanks to A/C) and growing more and more anxious to get back into the convention circuit! The New Hampshire Live Free or Die convention is quickly approaching and there's only a couple of openings left, so make sure to contact us to get in on the action!